Displaying user reviews on your website
All potential customers will visit your website or app store page landing page before purchasing or downloading. Reviews can help overcome objections, build trust between you and your prospects and showcase potential use-cases more clearly. When a visitor reads a positive review they should say "oh my god, they sound exactly like me."
The right user reviews have a big impact on conversion rates (the percentage of visitors that actually end up purchasing). For example, a study done on the impact of reviews on paid search found that products with higher ratings (4.96 compared to 3.31 on average) had a 23% higher conversion rate.
To have the biggest impact on visitors, there are a few tips to keep in mind. If you want an attention-grabbing message for your marketing webpage or social media, a short and clear quote is most useful. The quote should articulate a value or success that a customer gained from your product that would also apply to your other potential customers.
According to BrightLocal, customers look at three factors before deciding if they can trust reviews and proceeding to purchase:
58% of consumers put the highest weight on the overall star rating (ie. ⅘ stars)

47% of consumers look at the overall sentiment of the written reviews.

41% of consumers also take into account the recency of reviews — outdated or stale reviews will cost you points in their books.
In this example from Shopify, the customer is sharing how Shopify has helped them grow their business, while also talking about how easy it was. These are key selling points to other potential customers. The quote makes the points clear, concise, and will have meaning to a prospect who sees it. There is attribution to a founder and the company which gives the quote more credibility than an anonymous quote would have. Quotes like this help drive more sales and customers by expressing the value drivers of your product in a tangible way.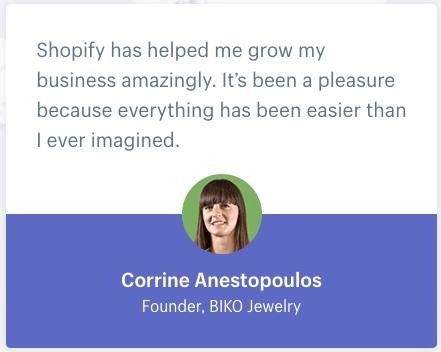 Personalized reviews also tend to work better because they are more believable. If you can put a face to a name, and list the company and position, customers will identify more strongly with the review.
Using reviews in reference material
Hearing exactly how your product changed a previous customer's life is very convincing — especially if the prospect identifies with the customer they are hearing from. Because of this, longer reviews are incredibly useful as reference material for marketing and sales. Marketing teams often use reviews from sites like Capterra when applying for corporate awards or building sales collateral like case studies, white-papers and slide-decks. These reviews are a great way to identify promoters and reference customers, but also to mine for real reasons why customers enjoy your product and then use that as part of your own marketing.
Beyond marketing, your sales team will reference the sites during the sales cycle as examples of successful implementations of your product. Later on in the sales funnel these sites may be preferred to your own marketing collateral, because the reviewer's balanced review contains less marketing language and more about real world experience. The review may contain some things to watch out for, or lessons learned which your prospects might find interesting during their investigation.

(from Capterra)
It might also be worth putting a summary of user reviews on your marketing collateral, rather than pulling out anecdotes and specific quotes. If your app users consistently rate you 4.8/5 on the App Store, that's a great statistic to highlight. CloudCherry goes a level deeper and showcases how their users rate them on a variety of aspects on G2Crowd, compared to their competitors. Using the sum of the reviews can show the bigger picture of how customers rate you.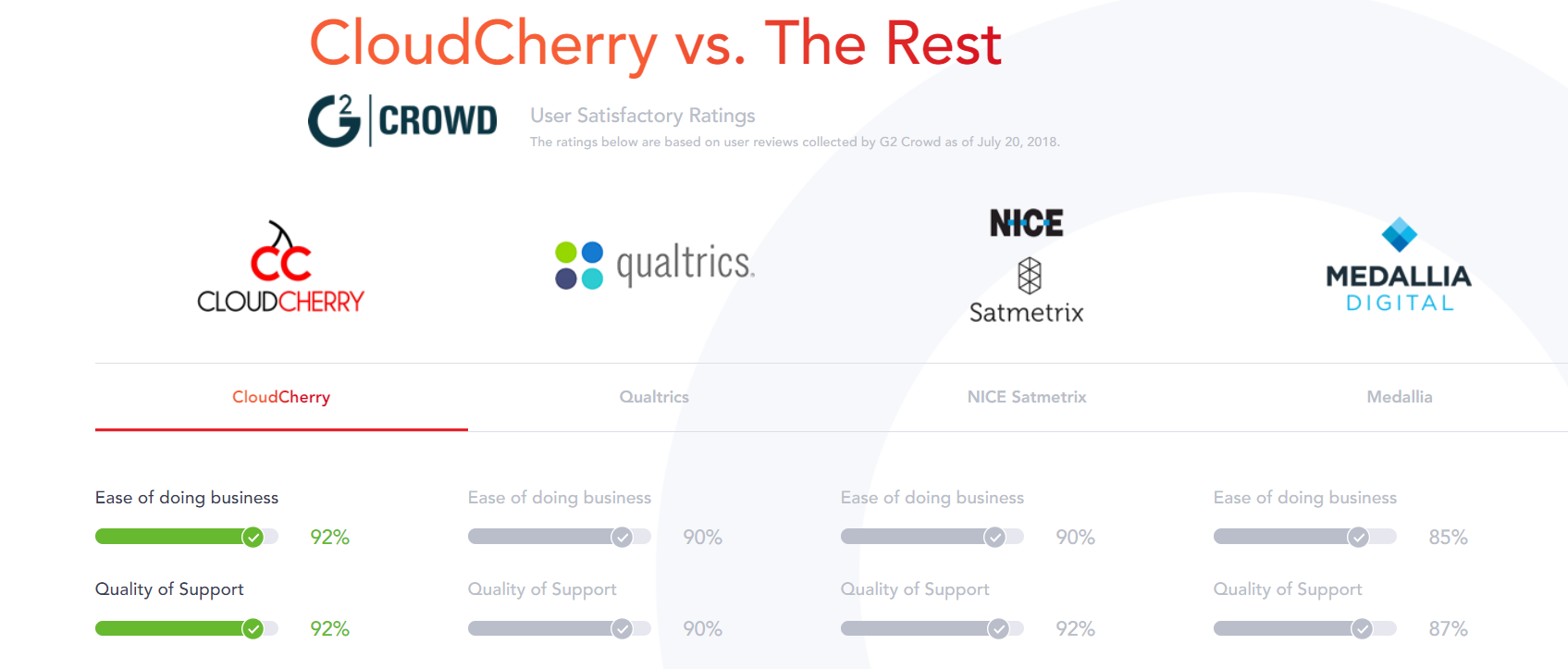 Product reviews for e-commerce
There is a ton of research out there that shows the impact of reviews on e-commerce conversion rates. Reviews are even more important for physical products sold online because customers can't test them out, hold them in their hands or really get a feel for them. They need to trust that you're selling what you say you are. Mark Hayes at Shopify calls these necessary aspects of your website "trust indicators" — reviews, social proof and branding are all important trust indicators.
" The increasing prevalence of phishing scams, malware, and just plain shoddy customer service makes consumers more wary with their clicks than ever before — which means that trust indicators on your website are more important than ever before."
Hearing from previous customers, both good and bad, can help ease shoppers' minds and get them to head to the checkout. For example:
63% of consumers are more likely to purchase from a site with product ratings and reviews. (iPerceptions, 2011)

93% of consumers are impacted by reviews during the purchasing decision (Podium, 2017)
To collect and display product reviews easily, it makes sense to use a purpose-built product review app. These apps make it easy for customers to submit their reviews, your website team to curate them and for visitors to browse and find the information they need. A few things to consider when choosing a product review app for your e-commerce platform:
Does it integrate with Google search? When a customer searches for a product, some tools will automatically show the current rating based on customer reviews. This can help your product stand out in a crowded field, as InFlow showcases on their blog.

Does it allow for images in the reviews? Images are always a more compelling form of a review than just text. Seeing a reviewer look amazing in their new clothing item might just be the trigger your customer needs to purchase.
Can you enable question and answer sections? If your product is quite technical, or your customers often have a lot of questions, you might want to consider offering a Q&A as part of your review section. This allows previous customers to answer specific questions about their experience and the product.
When making your product review gameplan, don't be too quick to screen for negative reviews. In fact, having negative reviews on your website might actually improve conversion rates. Reevoo, an online review tool, found that 68% of customers trust reviews more when they see both positive and negative scores. Furthermore, customers that seek out negative reviews are more likely further along in their purchasing decision. Letting them get the information they seek actually leads to higher conversion rates, the same Reevoo study found. While it certainly makes sense to censor rude, inaccurate or spam reviews, leaving up valid concerns (with a helpful response) can actually win you customers.
Using reviews on social media
If you get a particularly great review, often in the form of a personal story, make sure you share it with the world. Quotes can also be shared in newsletters, marketing materials, and on social media. If you have a great review that exemplifies your product or company's values, spread the word!
Wondering how you can share reviews and not come across as arrogant? It's all about gratitude. Retweet or share a user-generated post and express how much the review meant to your team. Provide a personal response and connect with the customer to thank them for their comments. If the customer sent their review or feedback in privately, make sure you ask their permission before sharing on your social media feeds. If they give you the go-ahead, use these simple and beautiful examples from Socially Sorted to inspire you, or try out HubSpot's quotes for Instagram templates to make simple image posts.
Text analysis and reviews
Machine learning has become a buzzword in customer experience teams lately, but practical applications haven't turned up as often. But one way machine learning can help teams understand their customer better is through sentiment and theme analysis of reviews. Review contain the thoughts and feelings of thousands of customers. Machine learning, specifically natural language processing, can sort through this raw human language and calculate exactly which themes come up the most often, what ideas customers are the most happy with, and where the biggest opportunities are. You can also compare your reviews to those of your competitors to find the biggest advantages and opportunities.
For example, MonkeyLearn completed sentiment analysis on hotel reviews from TripAdvisor, looking at hotels in London, Paris, New York, Bangkok, Madrid, Beijing, and Rio de Janeiro. They discovered a ton of different information, including that 82% of the things people wrote in reviews was positive, London got the worst hotel reviews and cockroaches only appeared in Bangkok reviews. Most interestingly, they found that while croissants were mentioned in Parisian reviews, it was almost always associated with negative sentiment. When diving in deeper they found it was most often a reflection of a subpar breakfast (ie. "It was just a couple stale croissants")
Think about how much you could learn from your thousands upon thousands of reviews left by customers. While positive reviews are great for marketing collateral and your product sites, all reviews are very helpful for improving your product.