Net Promoter Score
According to Medallia, Net Promoter Score (NPS), is an index ranging from −100 to 100 that measures the willingness of customers to recommend a company's products or services to others. It is used as a proxy for gauging the customer's overall satisfaction with a company's product or service and the customer's loyalty to the brand.
Customers are sent one single question, with the option to add qualitative feedback at the end as needed. They are asked to rate on an 11-point scale the likelihood of them recommending the brand to a friend or colleague. The question usually looks something like: "On a scale of 0 to 10, how likely are you to recommend [product] to a friend or a colleague?"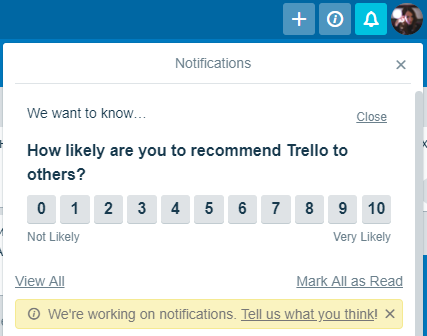 As a reminder from the beginning of this guide:
Promoters (score 9-10) are loyal enthusiasts who will keep buying and refer others, fueling growth.
Passives (score 7-8) are satisfied but unenthusiastic customers who are vulnerable to competitive offerings.
Detractors (score 0-6) are unhappy customers who can damage your brand and impede growth through negative word-of-mouth.
To promote loyalty, it can be important to reach out to people who leave qualitative feedback, or those who qualify as detractors (whether they leave feedback or not). After all, as your NPS score is one way to measure your customers' loyalty, you'll want to follow up, and track it in order to increase it over time.